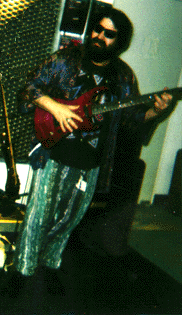 Joe Berger

Do you like it jazzy, cool and swinging? Are you an adventurous listener? Then Joe Berger, the master of applied fractal jazz guitar, is definitely the man to hear. In the Mid-80s he and his friends were already lightyears ahead of the "normal music scene".

Their CD Impromptu Outtakes Vol. I & II was recorded abso-rockin'-lutely live. More than 70 minutes of brilliant performances without any overdubs.

For a first blast download an excerpt from Transatlantis.

Ready 4 more tunes? Click here.


Joe met the 2Loud founder at the Musikmesse Frankfurt in 1993. He instantly fell in love with his special guitar amplifier that had 2 solar panels. Several times a day Joe came to promote the amp with his artistic guitar playing. In return 2Loud i.e. RT-Distribution promoted his Impromptu CDs, - first in record stores, to A&R people etc., and from August 1995 on via the just born WWW. Sometime around 1999 Joe became a netizen, too. You can find him on MySpace etc.




*** First Internet page about Joe Berger ***




© The artists; RT-Distribution, P.O. Box 2333, 58265 Gevelsberg, Germany. All rights reserved.