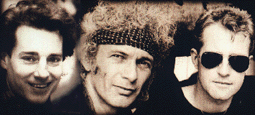 Henry Heggen, Abi Wallenstein & Steve Baker

Abi Wallenstein is a legendary figure among European blues artists. His unique style on the 8-string open tuned guitar and fascinating stage presence, coupled with his soulful vocals, give him an extraordinary ability to breathe new life into blues classics, as well as imbuing his original compositions with a rare authenticity. His playing has an effortless and natural quality which never fails to fascinate live audiences. Today he is one of the most highly regarded performers on the club and festival circuit, whether appearing alone, in duos, or with a band. This album showcases his duo work with two of the most talented contemporary harp players:
Steve Baker has achieved international recognition both as a harmonica virtuoso and an author. His fluid and original style has made him one of the leading figures of the European harp scene, and has been featured on over a hundred different recordings, from blues to rock, pop, jingles and film soundtracks as well as countless live performances. First published in 1989, his book "The Harp Handbook" has since been hailed as the definite work on the diatonic harmonica. He also works as a consultant for the harp manufacturer Hohner. Their research team developed a harp according to his wishes, named Steve Baker Special.
Henry Heggen is a "Mr. Natural" of the blues; on stage he radiates a natural authority which is totally convincing whilst seemingly unforced and effortless. He is one of the most riveting live performers around, combining powerful sensual vocals with rhythmic, full-toned harp playing to create a magnetical appeal all of his own which is equally successful with his own band "B-Sharp", his duo appearances, and his work with artists such as Vince Weber. In 1993 Henry and Steve released a new album with their recently reformed blues and jug band "Have Mercy" on CrossCut Records.
The compilation from four different recording sessions presents a cross section of the music with which Abi Wallenstein has been delighting live audiences for many years. Their CD Two Times 2 (sold out) was recorded abso-rockin'-lutely live. More than 70 minutes of brilliant performances without any overdubs. Better seriously double-buckle-up now!
For a first blast download excerpts from Take my woman and Palace of the King.

Check out other releases by Abi and his friends.
*** First Internet page about Abi Wallenstein, Steve Baker & Henry Heggen ***



© The artists; RT-Distribution, P.O. Box 2333, 58265 Gevelsberg, Germany. All rights reserved.